Previous Post:
Rio's Convergence to Premiere Tomorrow
&nbsp Next Post:
If You're Going to Miss, Miss Big
Recap of the 2011 TMEA Convention is a little delayed, been kind of a crazy week since I got back. I've been running around with my head cut off trying to follow up with the many wonderful people I met while I was in San Antonio. Not to mention I still can't figure out how to make these dang blog post pictures appear larger in size in the post. It's probably some .css style thing in the theme coding, who knows? Every time I try a new pixel setting it doesn't work. Good thing I didn't go into website development, although, I'm sure the money is better than the shillings we get paid as composers!
When I arrived in San Antonio I couldn't believe how cold it was, even for February. 19 degrees F ain't bad compared to Green Bay in the middle of winter, but I grew up at the beach on the West Coast. I ended up staying at the Marriot TowneSuites, nice place – they comped my first night because the bed had been slept in by some random whoever between the last person checking out and me checking in. Probably some staff member looking for a place to take a nap. First spent some time at the Hyatt bar speaking with composers Frank Ticheli and John Mackey. I eventually made my way over to the Marriot River Center bar that night with Dr. Abel Ramirez (the man who commissioned and conducted "Rio's Convergence") and met and spent time with some serious heavy weight names in the wind band world including Kevin Sedatole of Michigan St. Univeristy, Chuck Young (TMEA Band Vice-President) and Ronnie Rios of Harlingen High School in Texas. The margaritas made for an interesting night.
Woke up the next morning ready for another 3 nights of margaritas and headed down to the rehearsal room where the Texas All-State 4A Symphonic Band would be rehearsing "Rio's Convergence" as well as a new arrangement of the traditional "Huapango" by Moncayo that Abel Ramirez and I put together. Abel Ramirez was on fire that day at rehearsal. And for any of you out there that wonder if his rehearsal technique and tone of attitude is only like this at the big conventions, think again, he's full of passion and energy 110% of the time.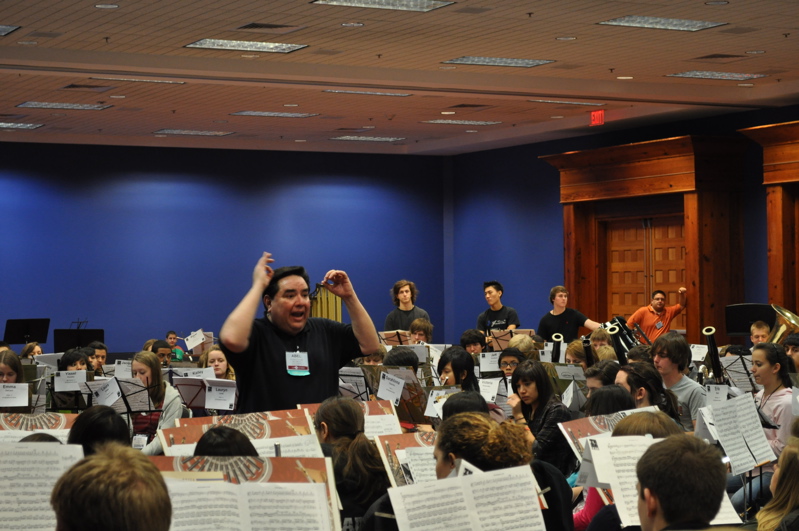 The trombone section was rockin'. Samantha Owens, playing lead at the front of the picture, had a great sound. The trombone unison sound was spectacular, especially at those moments in the music where they could really let loose. Such a big sound that even the 21 trumpets in the band had a hard time poking out in the texture from time to time!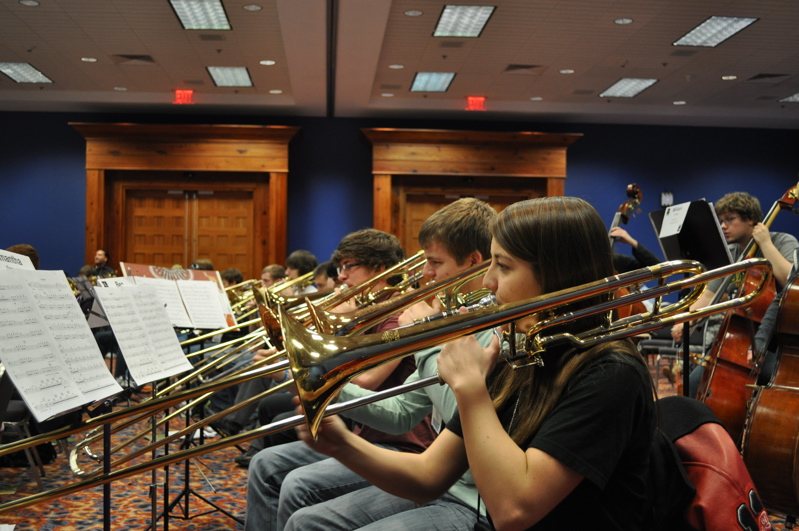 Emily Walters, Tyler Neufer and Branden Guess (the first 3 horn players in the section) set the tone for a great section sound. I had the pleasure of working with the horns in a short sectional. The focus was playing with confidence and hearing the music before playing it. For any young horn players reading this, the horn is meant to sound glorious – there is no other unison section sound that comes even close!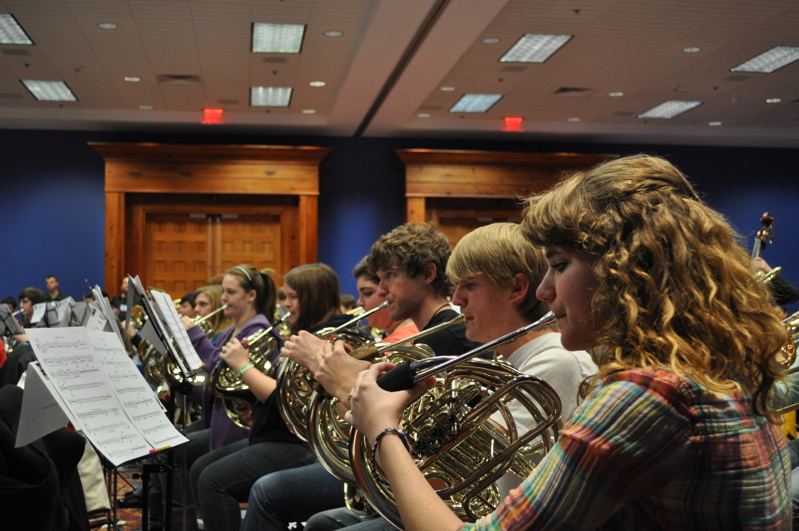 From time to time I would sneak out of rehearsal and go next door to listen to and watch with 5A Concert Band which Kevin Sedatole (pictured in the rear) was conducting. He conducted a wonderful program which included Don Grantham's wind band staple "Southern Harmony" and John Mackey's romp of a piece, "Asphalt Cocktail." Kevin is a fantastic conductor and it was obvious that the musicians in the band performed well as a result.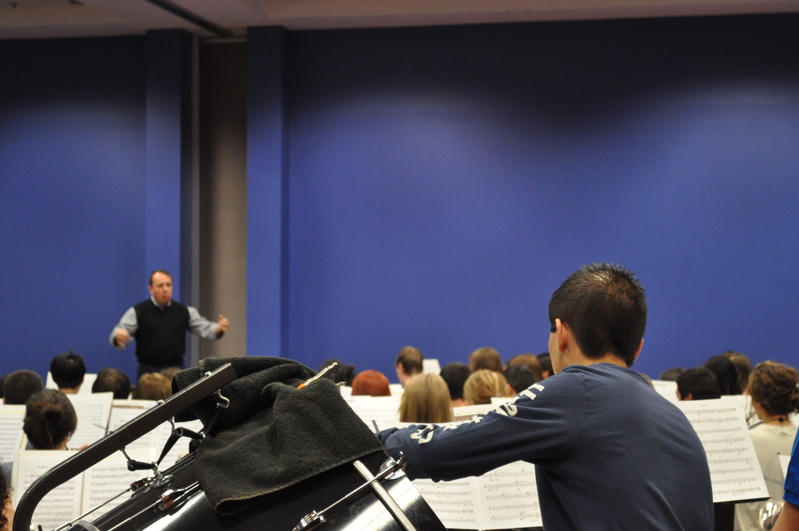 Back to the 4A Symphonic Band rehearsal where the saxophone section was, to my surprise, filled with a large number of players that play both classical and jazz. That worked out well for "Rio's Convergence" as there are some true jazz moments utilizing block scoring. Lead alto, Quinn Taylor, led the section well and they sounded great!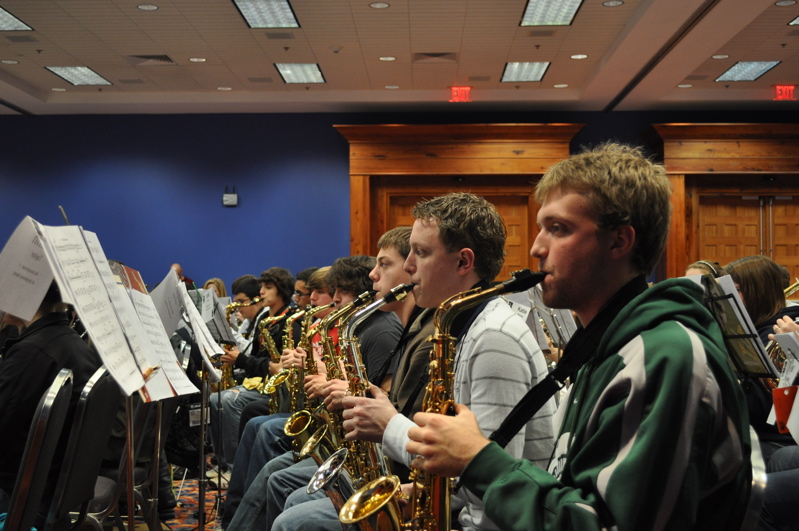 The percussion section had some wonderful talent in it. There is nothing quite like a well-oiled percussion section when the music lets it run free. I had a great time working with these guys. The one sectional we had was fun, always a challenge with percussion though as counting becomes even more important when the band isn't there to give them any reference. Well done percussion!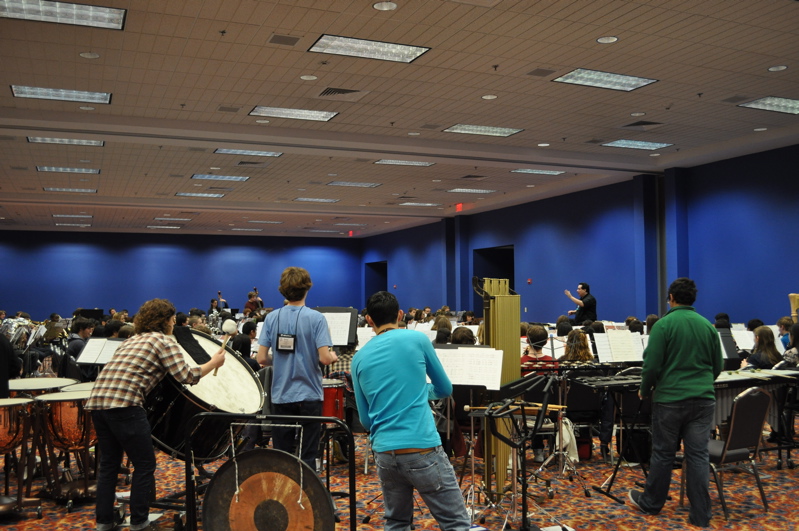 The trumpets. Enough said.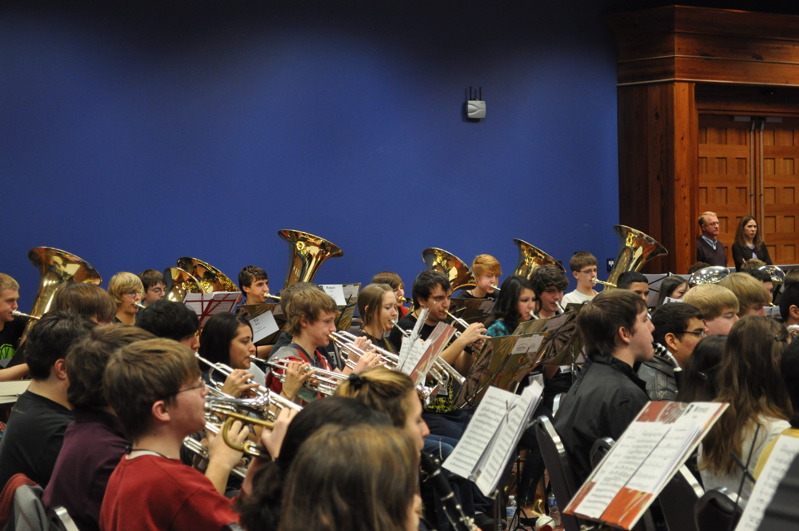 I love this picture of Abel Ramirez conducting with such vigor as conductor extraordinaire Jerry Junkin of UT Austin looks on in the background. To quote Darth Vader, "Impressive. Most impressive." It's pretty incredible what Jerry Junkin has accomplished in his career already, and he has decades, DECADES left of more to come. You can almost feel it in your bones when he walks into a room.
And yes, what would the San Antonio River Walk be without a McDonald's just above it? You want clogged arteries? French fries in your stomach that take 2 years to digest? Chicken McNuggets that are made from puppy dog tails? MickeyDs is your place.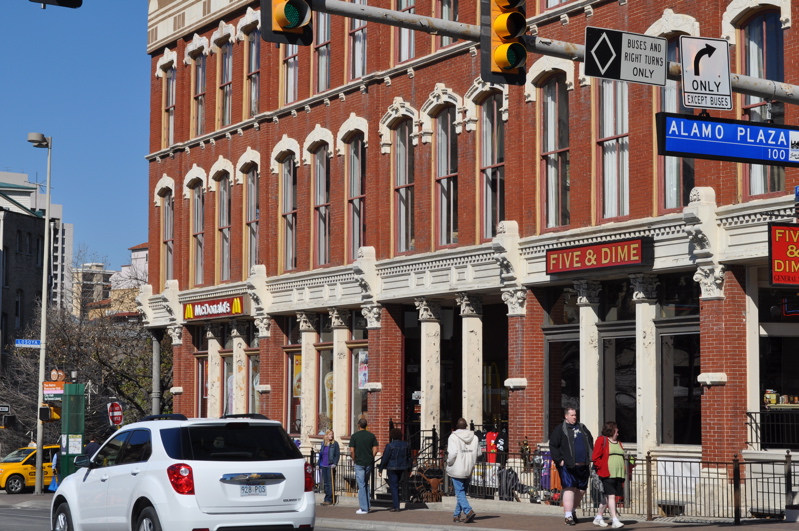 I finally had a few minutes (30 to be exact) of down time the last day I was there. I ran down to the Alamo, which I had never been to before, to take some pictures, hoping that there would be some good weather and sunshine. Well, I got good weather, sunshine and a whole lot of Civil War reenacting! I guess when you're from California your community doesn't pay a whole lot of attention to Civil War history, as fascinating as it is. Texas? Well, that's a completely different thing. So…here we go, some of my favorite pictures from the Alamo, as brought to you by 21st - 19th Century Southern soldiers.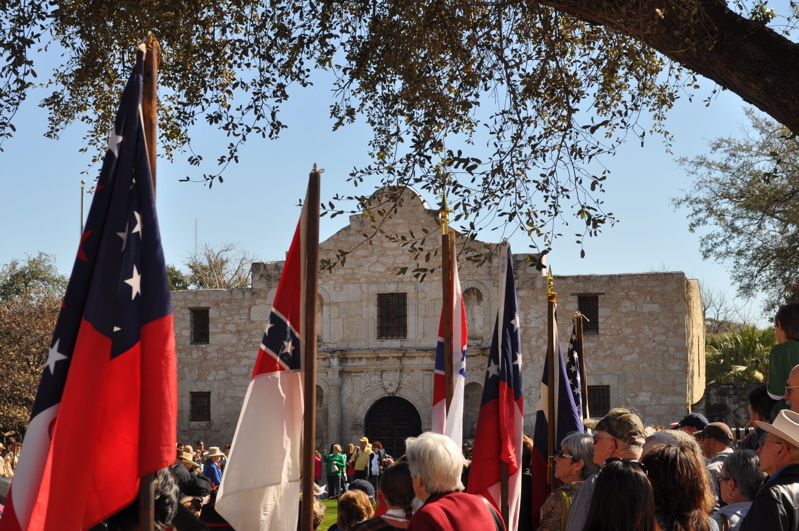 Had to photograph these playing cards. The only thing I could think of was Doc Holliday taking some Cowboy to the cleaners over a game of poker, with lots of whiskey and the occasional coughing up of blood…ok, bad joke…maybe.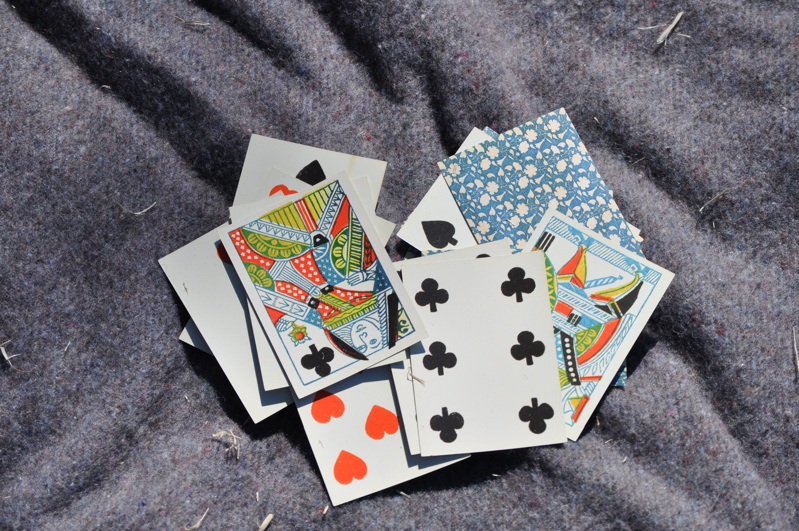 And here we have the sheriff keeping a watchful eye just in case Texas decides to secede from the union again. Looks to me like he's ready to draw!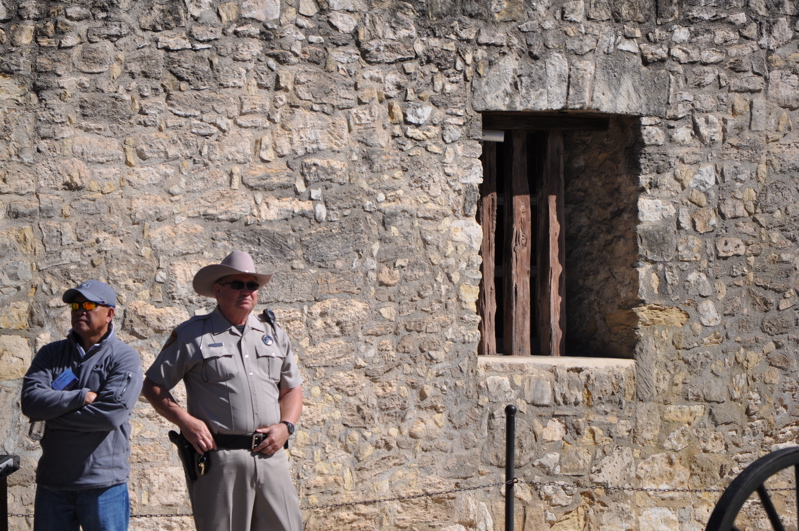 This guy really does look like he was transported from the 19th century just for this reenactment. A little on the pale side? Maybe he only eats bread and porridge.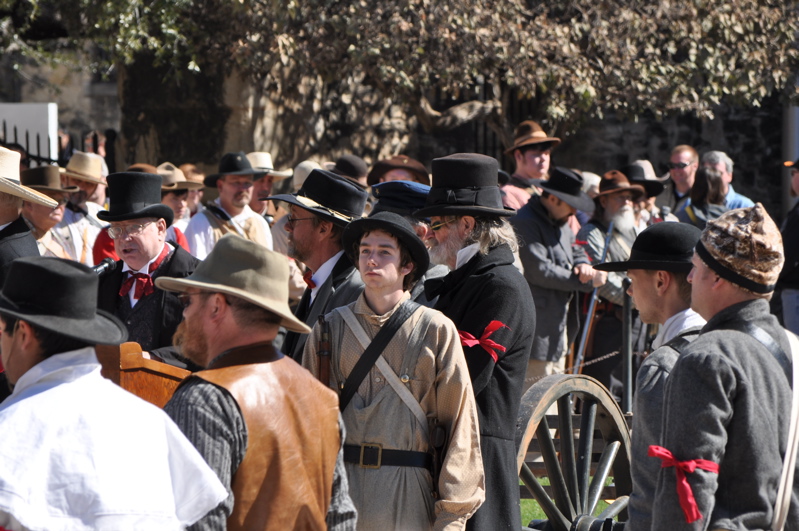 I'm a Yankee Doddle Dandy, I need no sign to remind me.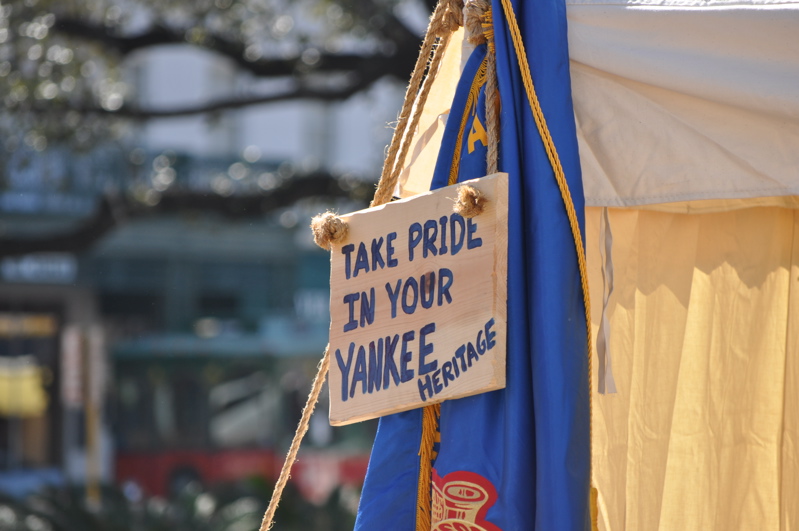 This "Join Today" sign was one of my favorite pieces of the whole event. What more could you ask from the tourists there to watch? I think I saw some kid trying to join the Rebellion, his father never told him the Civil War ended a few years ago.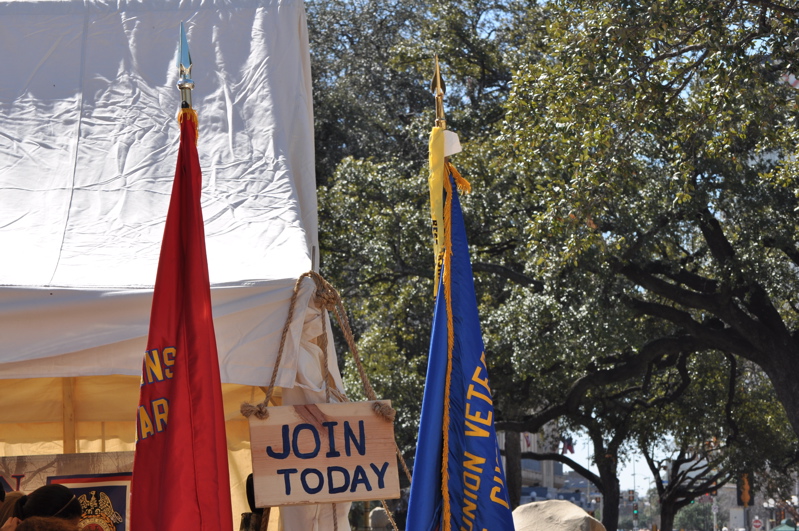 "Hahahahaha. Now kids, guns are to be treated with respect." I want a hat just like that one. I think Disneyland has one just like that for sale, next to the Indiana Jones ride.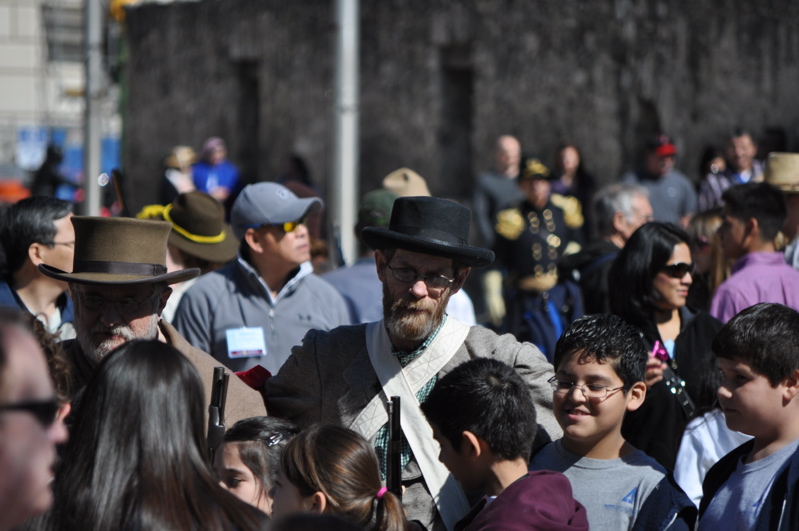 "Son, did you just try and shoot your brother?"
Now, this is my kind of army. Raggedy and ready to fight. Men, the TMEA Convention is just down the road. Where can I find outfits like these?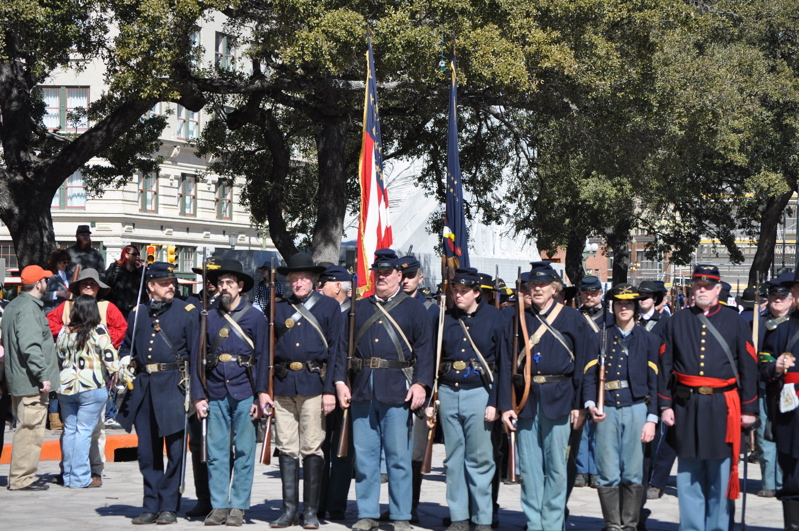 Back to the Convention. The 4A Symphonic Band spent very little time rehearsing "Rios Convergence" but they did an amazing job preparing it. The young, talented players all came together and the performance went very well. The Lila Cockrell Theatre was recently rebuilt – good acoustics and very attractive inside. Last year at TMEA there was no theatre so the All-State bands had to perform in the convention center ballrooms. The wait was worth it I think.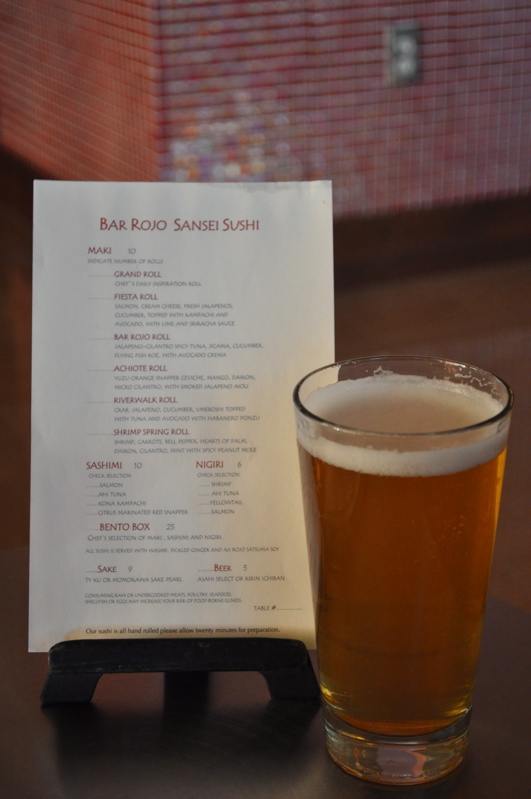 You can see Chuck Young (TMEA Band Vice-President) at the front (the only one facing the camera). Chuck is not only an extremely genuine man, he's out of control funny. His jokes will stick with you for life. Thanks Chuck for the timely humor!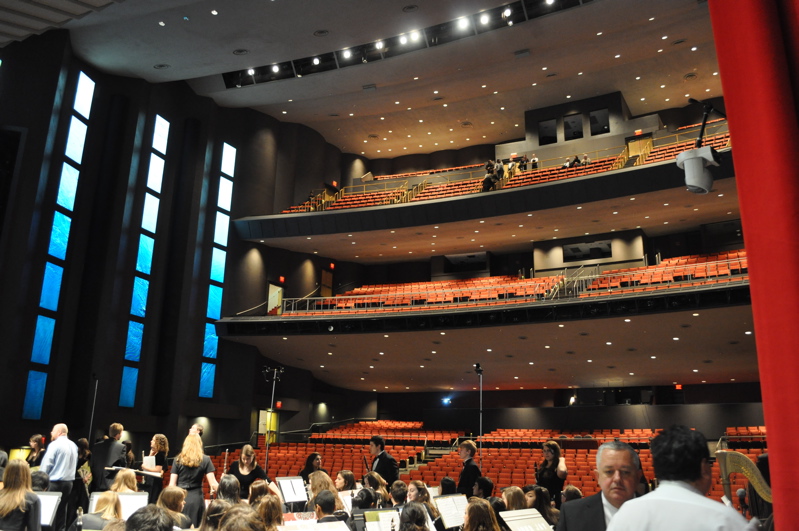 I owe Abel Ramirez a pretty significant debt for commissioning and premiering "Rio's Convergence" at TMEA. It's apparently very rare when a work is commissioned for one of the All-State bands with the intention of the music receiving its premiere at the annual Convention. Abel and I had a great time during the meet and greet after the show. Always nice to meet the parents of these young musicians to thank them for supporting their child's decision to pursue music.
Abel and I with flutist, Emma DeCaro.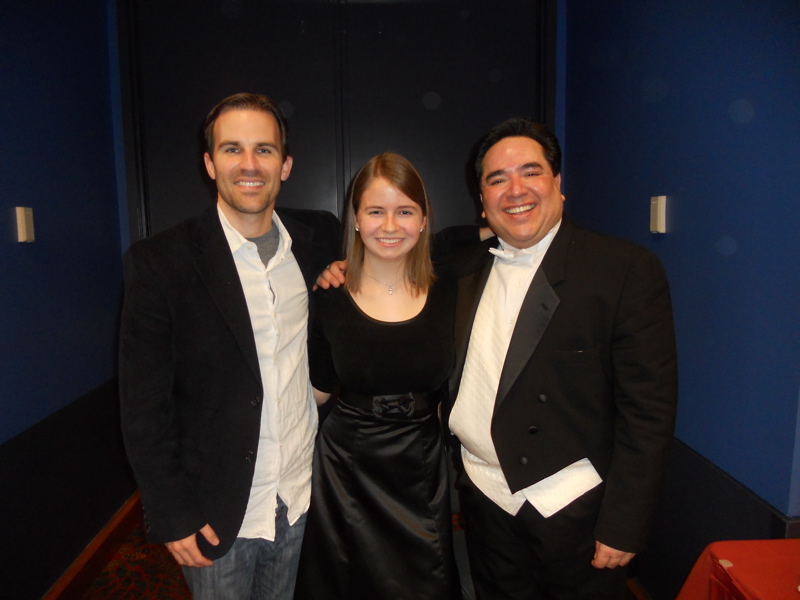 With Rob Fuller, one of the fantastic tuba players that gave the band some serious sound down low.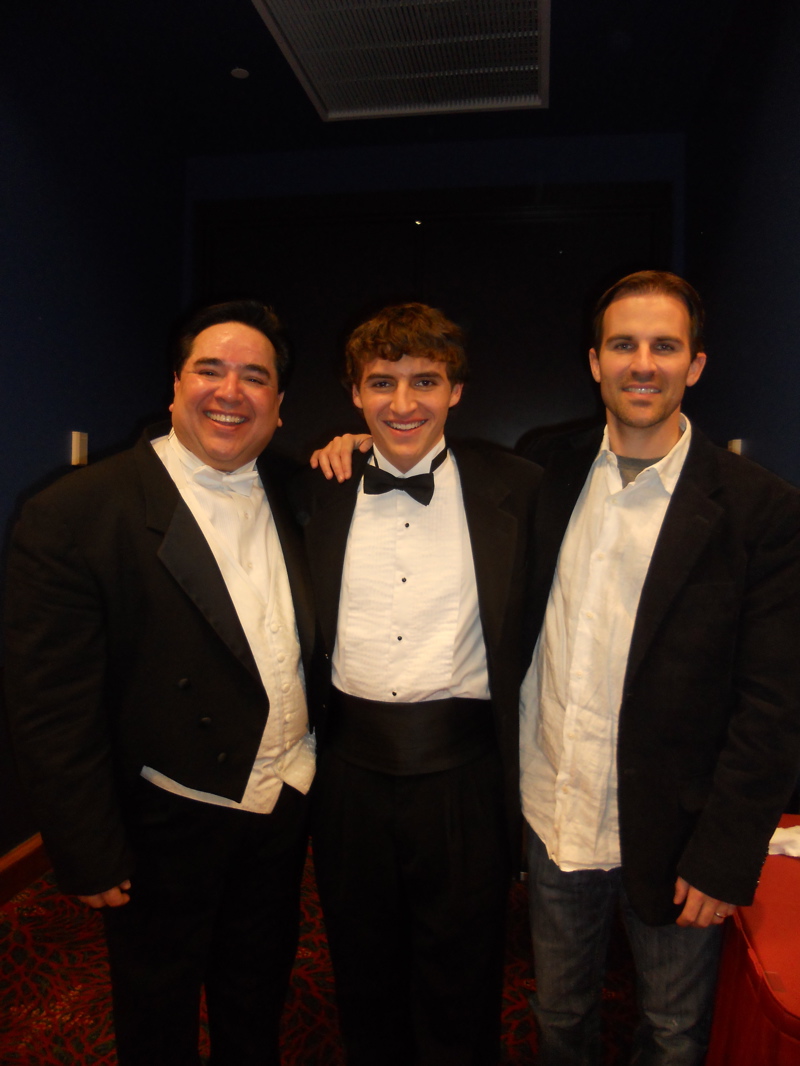 I attended the final TMEA dinner on Saturday night with many of the most respected musicians in the wind band world. I finally had a chance to meet Maestro Gary Green of the University of Miami – he conducted an amazing program with the 5A Symphonic Band. He opened with Michael Daughtery's "Lost Vegas" and closed with the chop-killer "Symphony No. 4" by Maslanka. This piece by itself is a whole program! And in the middle was John Mackey's "Hymn to a Blue Hour" which I thought was very beautiful.
For me, one of the highlights of the whole TMEA Convention was the opportunity I had to visit with Richard Floyd (Texas State Director of Music) about not only my music, but music in general. Not only did he have some very helpful and encouraging things to say, he proved to me why we as humans should still aspire to be better. His is a true gentleman and a living, breathing history of the wind band. Hope to learn much more from this man.
After the final TMEA dinner Abel Ramirez and I headed over to the famous Mi Tierra Café. Wow, the margaritas at this place were unbelievable. I forgot to ask for the recipe, but it probably goes something like this:
9 parts tequila
.5 parts margarita mix
.5 parts knock you on your ass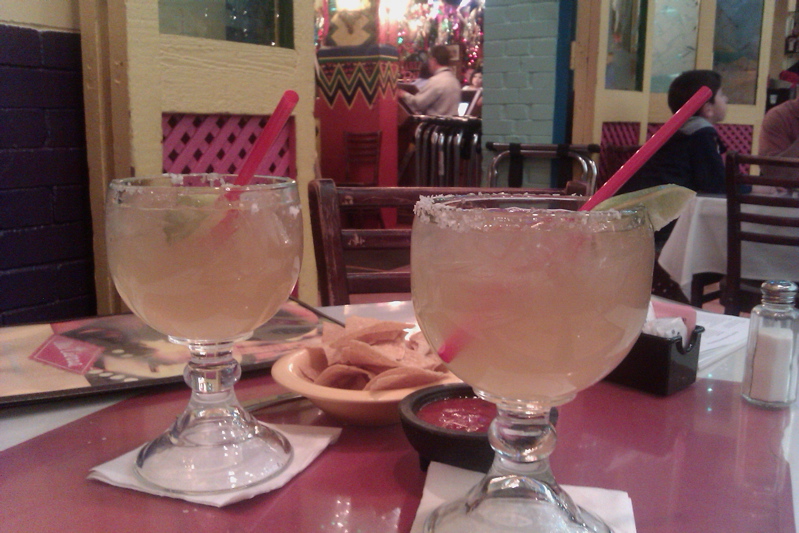 The ranchero sauce on the steak and eggs beat me up a little bit, but worth the pain.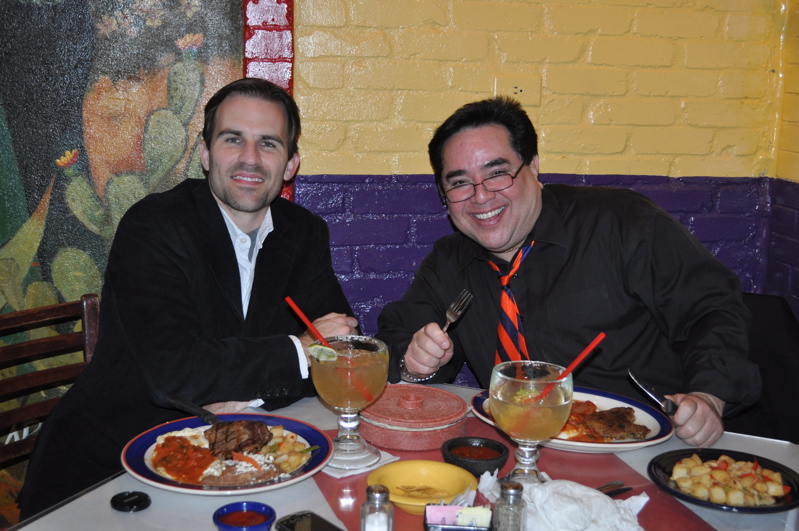 All in all my time at TMEA was extremely memorable. I can't wait to come back and hopefully I'll be at TBA in July this year. There is truly no place like Texas, and more to the point, no place in the world like the Texas Music Educators.